Cars

Services

Contact

Limo Partners
Rolls Royce Phantom - White
At Phantom Cars Hire we have a beautiful white Rolls Royce Phantom for hire chauffeur driven. It is simply the most luxurious and glamorous car. Its interior and engineering is remarkable and with its state of the art technology it makes it a vehicle unlike any other.
This vehicle is nearly 20ft long and 6ft 6in wide making it noticeable; it is a statement of affluence. The exterior of the Rolls Royce Phantom bears signature contour of a classic Rolls Royce. The interior of the Rolls Royce Phantom is a mix of old fashion luxury with contemporary comfort. It's exceptionally spacious and can seat up to four passengers. The long bonnet and strong 'C-Pillar' behind the rear doors and the discreet car window prevents passengers in the rear from being seen from on lookers as they're chauffeured around.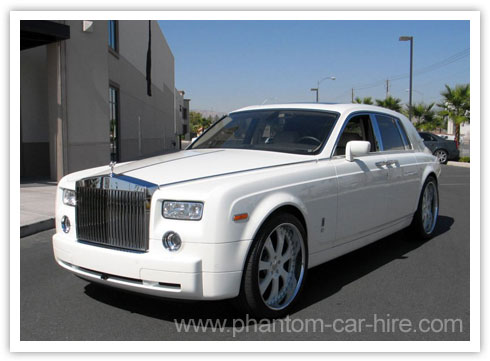 The Rolls Royce Phantom is an exceptional chauffeur driven vehicle, combining unsurpassed levels of quality, comfort and style. Our professional and experienced chauffeurs will provide you with a premium level of transport service and will ensure you and guests feel like VIP's
Everyone feels comfortable in a Rolls Royce Phantom; the seats are designed with so much comfort that you won't want to get out. The automatic climate control system comes as standard ensuring a thoroughly agreeable climate at all times.
Our white Rolls Royce Phantom is luxurious and stylish and has been a very popular choice of vehicle hire for weddings. This vehicle can add that extra magic to a couple's special day, making a memorable experience extra special. By hiring our white Rolls Royce Phantom as a wedding vehicle, you can be confident to arrive in style and class.
This elegant vehicle is has also been a popular choice for chauffeured driven airport transfers and business trips. Phantom Cars Hire can help you meet the demands of your business when you hire our chauffeur driven white Rolls Royce Phantom for your business affairs. We will provide you with a service that enables you and your business partner the opportunity to concentrate on your business discussions whilst you leave the driving to your discreet chauffeur.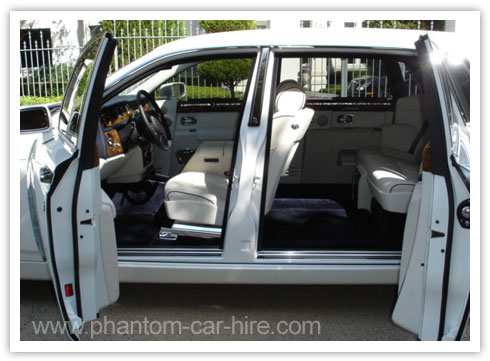 Our professional chauffeurs are very courteous and always dressed in suit, shirt and tie. They are highly trained and will ensure your travel experience will be very safe and enjoyable.
Whatever your occasion or event, you will be envy of all on lookers and will be watched by smirking neighbours' from behind their curtains as they see you in our white Rolls Royce Phantom.
This Rolls Royce Phantom is very much in demand, so please book in advance. We cover all major Cities and towns in East and West Midlands.