Cars

Services

Contact

Limo Partners
Phantom Car Hire - Special Occasions
Phantom Cars Hire can provide transport for al types of special occasions. Whatever the occasion, we guarantee to provide you with personal care and attention on your special occasion – you will feel like a VIP.
Our professional chauffeurs are highly trained drivers, all with many years of experience within the chauffeuring industry. They ensure you have a smooth and enjoyable journey to your choice destination when in one of our Rolls Royce Phantoms. They provide a first class discrete and professional service, always punctual, courteous, and smartly dressed in a suit, shirt and tie.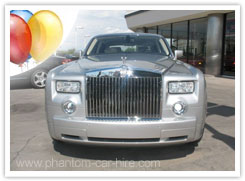 Birthday celebrations
By hiring a Rolls Royce Phantom for your birthday celebration it will provide glamour and style. Hire one for your birthday celebration or treat someone else for theirs.
Casino nights
Want some fun with your mates? Then hire a Rolls Royce Phantom and take a risk at the casino. Arriving in the car with the most luxury and style will have you and your mates standing apart from all others, making you noticeable and providing a statement of affluence.
Hen and Stage Nights
The Rolls Royce Phantom is the only way to travel on your hen or stag night. We can make sure the Hen or Stag celebrates their last night of independence in complete luxury and ensure they get home and to the alter safely.
Ladies who lunch and Ladies who shop
Ladies who lunch and Yummy Mummies are all the rage and high light the importance of quality time with your girl friends. So, hire a Rolls Royce Phantom and be spoilt by our professional chauffeur as he drives you and your friends to your choice of destination. You could dine together at a lovely restaurant, spend the day relaxing on a spare day, be entertained at the theatre or anything you ladies desire, including shop till you drop! Whatever you do you will enjoy being together with your friend in a chauffeur driven Rolls Royce Phantom
Sight seeing
If you are passionate about history and heritage you will enjoy a day insight seeing in the midlands. There is so much to see and do; it is a beautiful region that combines the old with the new. So travel in beauty in a stylish Rolls Royce Phantom. You will feel like royalty as you soak up the heritage and culture whilst sipping champagne as you read your tourist guide and plan your day ahead.
Whatever your special occasion we can make it extra special, so contact us to book your chauffeur driven Rolls Royce Phantom – it will be so much fun!
Special dates and Wedding anniversary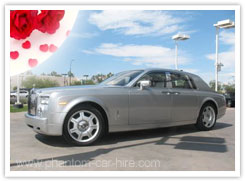 Our chauffeur driven Rolls Royce Phantom is a popular choice for couples on a special date or celebrating their wedding anniversary. You can be rest assured that Phantom Cars are highly confidential at all times, you can be assured what goes on the car stays in the car
Valentines
Treat that special person in your life to a romantic Valentine's Date cruising around in our luxurious Rolls Royce Phantom with Phantom Cars Hire. One of our professional uniformed chauffeurs will pick you up from your home by and take you your required destination. For your convenience we can also book you a table at your favourite restaurant or one you have never been to before. We can even arrange special gifts such as fresh flowers and chocolates to be placed in the car for you for that additional surprise.