Cars

Services

Contact

Limo Partners
Phantom Cars Hire- Corporate Hire
Phantom Cars Hire can help you with your business transport needs. Whether you have an important business meeting or want to make the right impression travelling in a Rolls Royce Phantom with Phantom Cars Hire can help.
We have many years experience in the chauffeuring industry. Our service has been used by many large and small businesses. We want to help you make an impression that will be remembered for all the right reasons. Your business needs are unique and we want you to concentrate on your business affairs rather than your transport requirements.
Our cars are perfect and they stand apart from all others especially our range of Rolls Royce Phantoms. They each provide lavish luxury, style, sophistication. It is a brilliant luxury car that has been built from the finest materials to high standards. The suspension provides the smoothest ride, with the latest comfortable seats to provide you with an outstanding journey experience.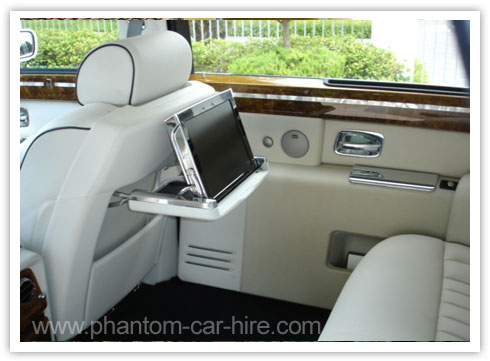 The Rolls Royce Phantoms is nearly 20ft long and 6ft 6in wide making it noticeable; it is a statement of affluence. The interior of the Rolls Royce Phantom is a mix of old fashion luxury with contemporary comfort. It can seat up to four passengers comfortably. The long bonnet and discreet car window prevents passengers from being seen from on lookers as they're chauffeured around.
Whether you have an important meeting, you're planning a special day for a member of staff, or you are trying to impress an important client, hire our Rolls Royce Phantom and we guarantee a VIP service.
Our professional chauffeurs provide this client door to door service to and from any destination of your choice. They know the regions well and have good knowledge of hotels, conference venues, and traffic conditions.
A vital part of our service is to provide you with elegant travel and a luxurious drive. Let our professional chauffeurs tour you around whilst you relax and enjoy your experience in one of our exclusive cars. You will be provided a first class discrete and professional service. Our chauffeurs are always punctual, courteous, and smartly dressed in a suit, shirt and tie to complement your professional imagine.
So hurry and contact Phantom Cars Hire and we will add that extra touch to your corporate events, by providing travel in style and luxury.